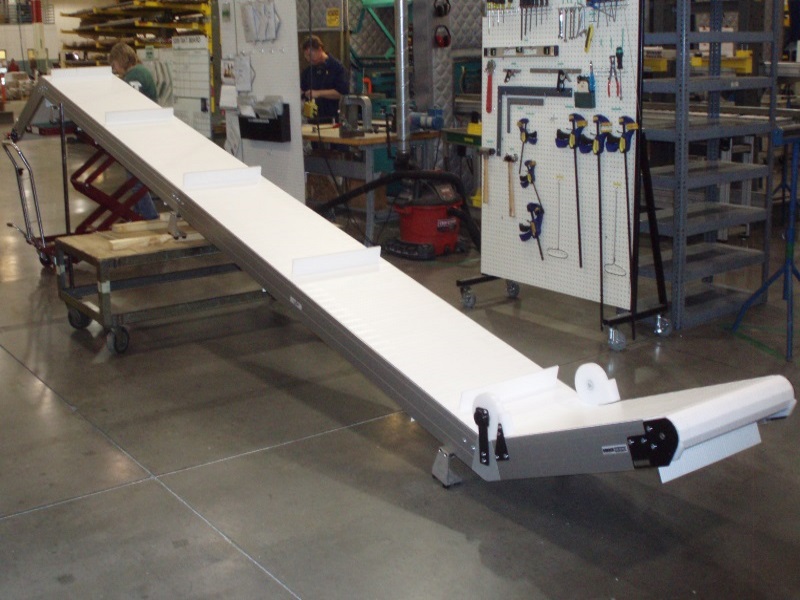 Modular Plastic Belted Elevating Conveyors
AS Conveyors offer a variety of elevating and inclined modular belt conveyors based on Z-frame configurations.
Z-Frame conveyors are used to elevate products or to lower products if run the opposite way. We offer Dorner Z-frame conveyors with both aluminium and stainless steel construction, covering industries from packaging and assembly, to food processing.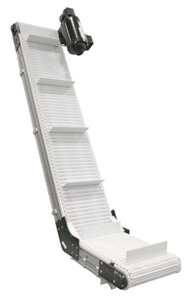 Modular plastic belt chains are basically a series of plastic slat pieces pinned together. They are strong and have a high degree of traction with the motor. 
Belts can be flat or cleated, with moulded on slats or flights that assist the product to scale steeper inclines. Slats with moulded on side wall profiles can also be supplied on some versions so that small parts are kept on the main belt surface, as allowing them to pass over of the edge of the belt can result in premature belt wear and other issues. Some slats are moulded to be more like pouches, thereby offering vertical transport possibilities.
We also offer steel frames heavy duty elevators for more robust applications. We offer an industry leading 10 year warranty on all Dorner conveyors. No other company in the industry offers a longer warranty. Terms and conditions apply.