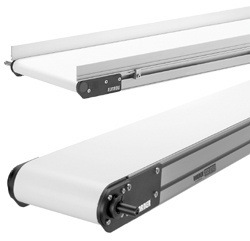 The widest range of low profile belt conveyors to you by AS Conveyor Systems as UK suppliers and manufacturers. Choose from 100's of design options based on different models, designs of belts, drives, stands and side guides manufactured to high specifications and supplied to you on time. These low profile models are designed for a wide field of applications from small parts movement in industries such as electronics, machine building, medical and pharmaceuticals, through to general handling in warehouses and production processes. We offer an industry leading 10 year warranty on all Dorner conveyors. No other company in the industry offers a longer warranty. Terms and conditions apply.
If you are not sure which way to go with your project, we are only a phone call away with experienced, plain talking advice that's free, non technical and friendly.
2200 Series Low Profile Belt Conveyor The world-wide selling Dorner 2200 series belt conveyors are low profile conveyors fortified with Dorner innovation and quality. Available as Flat Belt End Drive, Cleated Belt End Drive, Center Drive, iDrive and Gravity Roller models. In widths of (44 mm) up to (610 mm) and lengths from (457 mm) up to (7,315 mm). The 2200 Series can carry loads up to (54 kg) at speeds up to (122 m/min). The perfect solution for small part transfers, part accumulation and precision part movement.
Type 40 Aluminium Framed Conveyor Belt This conveyor is a popular choice for medium to light duty applications. Constructed from 40mm anodised aluminium this conveyor is a cost-effective option when space is limited. Available in widths of 80mm, 160mm & 240mm as standard. With lengths from 1000mm up to 3000mm in 500m increments. Running speed of 9M/Min up to 25M/min. This conveyor is in our quick delivery range and can be despatched within 5 days.
4100 Series Press Tool Conveyor With its one-piece mild steel construction, the 4100 Series is the toughest conveyor in our low profile range. It is at home in the metal forming and pressing environment. Available in widths of (19mm) up to (305mm) and lengths of (610mm) up to (1829mm). This conveyor handles loads of up to 36Kg at an impressive speed of 78M/Min.