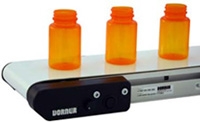 With the widest range of mini belt conveyors and miniature conveyor belt systems, AS Conveyor Systems Ltd are the UK supplier and manufacturer with the answers.
Multiple options based on different models, designs of belts, drives, stands and side guides manufactured and supplied to you on time. With their compact rollers, frames and motors, these miniature models are specially designed for small parts movement in industries such as electronics, machine building, medical and pharmaceuticals. Find the right small conveying product for the job you need to do and pay less in the process. Our delivery times are short and you can be assured of receiving quality equipment with a full warranty. If you are not sure which way to go with your project, we are only a phone call away with experienced, plain talking advice that's free, non technical and friendly.
1100 Series Belt Conveyor Frame height: (19mm) Available widths: (44mm) (95mm) (152mm) (203mm) (254mm) Available lengths: (270mm) to (1829mm) in (3mm) increments Maximum load: (6.8 kg) Speeds: up to (21 m/min) This conveyor can be fitted with side guides and is available with end-drive and mid-drive motor packages. Ideal for small parts transfer within pharmaceuticals, life science applications or in any situation where space is limited.
Type20 Miniature Conveyor Belt Frame height: (20mm) Available widths: (20mm) (60mm) Available lengths: (500mm) (1000m) Maximum load: (1kg) Speeds: up to (27 m/min) The Type20 comes with fewer options than the 1100 Series but is perfect for those on a tight budget. Ideally suited to very light applications, this conveyor is powered by an end drive 24VDC motor with variable speed controller as an option.
iDrive Small Conveyor System Frame height: (42mm) Available widths: (51 mm) to (457 mm) Available lengths: (457 mm) to (2438 mm) Maximum load: (11.3kg) Speeds: up to (21m/min) With the greatest number of options, the iDrive is the most versatile of the miniature conveyors in our range. Capable of indexing up to 30 indexes a minute, powered by a maintenance-free brushless DC motor that is internally mounted. It is ideally suited to any application where small products are being moved within the tightest of spaces.