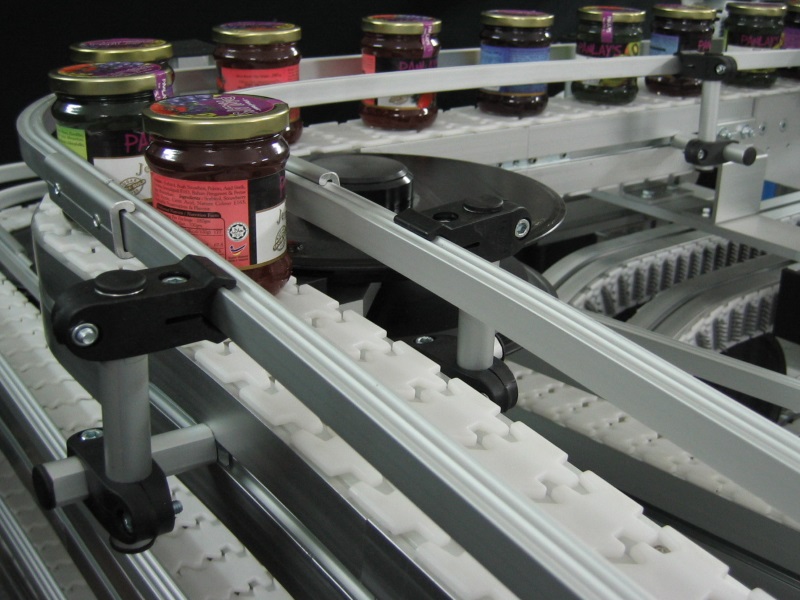 Flexmove Modular Slat Chain Belt Conveyors.
The Flexmove range of side flexing plastic chain conveyor systems (often described as slat conveyors) are manufactured to the highest standards to provide our customers with quality at affordable prices. Flexmove is a fully owned company of Dorner Conveyors and we are longstanding UK distributors for both Flexmove and Dorner. With components and modules equivalent and sometimes interchangeable with more expensive conveyor systems, Flexmove is an economical alternative to the leading systems available.
Flexmove slat conveyors run alongside some of the more expensive conveyor systems in many factories. Once you check the options and systems available with the Flexmove slat conveyor system against the competition, you will see that it's possibile to save money and have modern, efficient conveyor systems with Flexmove.The Flexmove system projects quality. All Flexmove plastic slat conveyor components can be easily connected and installed using just hand tools. This feature allows the conveyor system to be installed or reconfigured in less time than more conventional equipment. The bright aluminium extrusion structure, which can encompass straights, bends, inclines and declines in one continuous run, means you are always in control. The simplicity of the construction and the plastic chain system makes it easy to assemble...or change....or update.
Flexmove plastic slat conveyors utilise a generally narrow plastic slat chain. Flexmove is available with different chain widths of 35mm, 63mm, 83mm, 103mm and 150mm. Delivered as you want: A kit of parts, assembled and installed or in modules. Utilising your own creativity and the advantages of the plastic slat conveyor belt system in 3-dimensional movements, your Flexmove conveyor system can bend, loop, incline, decline and curve effortlessly.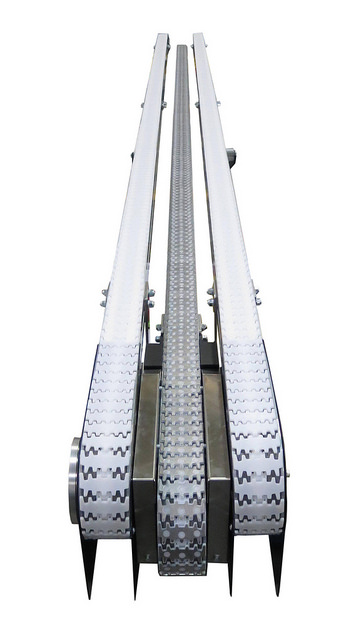 AS Conveyor Systems are UK distributors for Flexmove. The Flexmove system offers many of the same features of the leading systems on the market but at a lower price. If this looks like what you are looking for then why not get in touch for a quote?
For more technical information on Flexmove modular conveyors please visit the specialist Flexmove website at: www.flexmove.co.uk