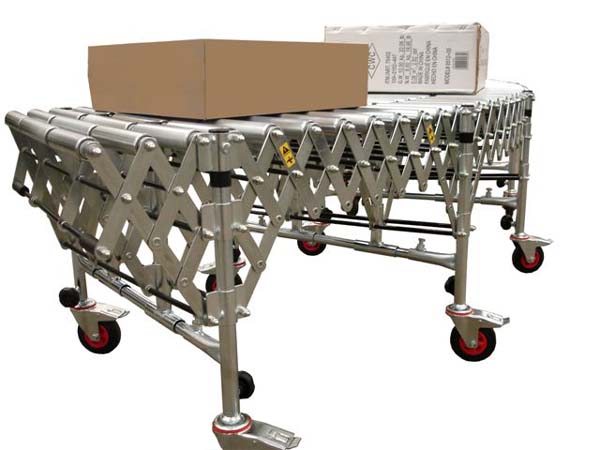 Here you can choose between the three different types of flexible roller conveyor available.
Flexible Gravity Roller Conveyors
These conveyors use full width rollers in either zinc plated steel or PVC. On wider models the rollers may not be full width to allow for free product movement on wide loads. In this case multiple rollers are used to achieve the total width. Both types roll freely but the PVC version will be slightly lighter to move around, whereas the steel rollers will be more robust. There's not a big price difference between Steel and PVC rollers, with steel being slightly more expensive, so if in doubt about product weight and your working environment, we usually recommend steel rollers as they are more robust.
Flexible Gravity Skatewheel Conveyors
Skatewheel type flexible conveyors essentially do the same work as roller conveyors, but the skatewheel design of multiple wheels on an axle make the conveyors lighter to use than full width rollers. Also some packages transfer around corners better with skatewheels.
Flexible Powered Roller Conveyors
Where a gravity system may not be able to carry out the task you require your flexible conveyor to perform, you might consider a powered roller version. Although more expensive than the gravity versions, these powered extending roller conveyors can expand just like their gravity counterparts, but the use of motors to power the rollers mean that longer distances can be covered without the drop in height needed to move products under gravity. Sensors can also be fitted to start/stop the conveyor when a product gets to the end.