Flexible Expanding Steel Roller Conveyors
Only 0 left
SKU
Flexible Expanding Steel Roller Conveyors
Flexible expanding roller conveyors extend and bend to your requirements, With a robust construction, these expanding flexible gravity conveyors provide cost effective extending conveyor solutions. They are very easy to quickly manoeuvre in or out of trucks for more efficient, safer, easier loading and unloading. Whether you need an expanding roller conveyor available every hour or just a few times a week, these units will help you to reduce vehicle turn around and thereby increase productivity. The boxes on these mobile expanding conveyors follow the line of the conveyor whatever that may be. So of you want to work around an awkward pillar in your workshop or warehouse, no problem.
These conveyors are fitted with heavy duty castors for maximum strength and robust mobility, including a foot brake for fixed positioning and safer conveyor handling.
Flexible roller conveyors are self tracking. Boxes follow the twists and turns of the conveyor whatever way it's orientated.
Package Stops prevent boxes and packages from falling off the end of the conveyor and can be lowered if required for storage when not in use, or when connecting to another flexible roller conveyor.
Standard fully extended conveyor roller centres can be adjusted for small parts by using limit plates but these do shorten the expanded lengths.
Please note that optional roller centres will have an effect the conveyors compact length and also the final cost of the conveyor. It's always best to keep to the standard sizes. Expandable roller conveyors can also be manufactured in custom lengths to suit your individual conveying needs. If your application requires a length that is not listed in the above chart, please call for assistance. We are here to help you get the best value for money.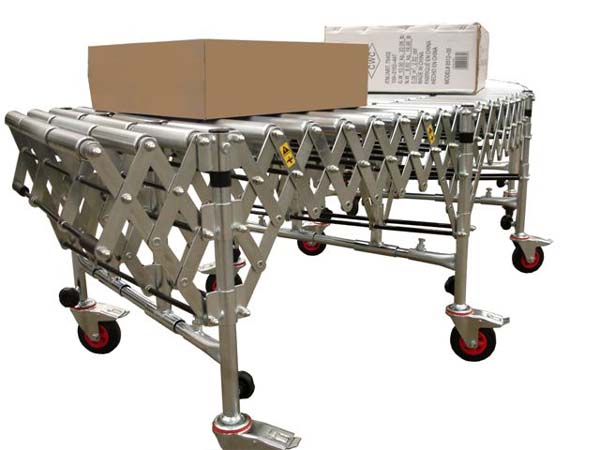 Key features of expanding flexible roller conveyor systems
Standard roller widths from 300mm to 1200mm.
Steel adjustable conveyor support legs – 450mm to 1500mm in stages.
50mm diameter heavy duty steel zinc plated tube with semi precision bearings. These conveyors are also available with tough high impact plastic conveyor rollers for conveying of more fragile or sensitive loads.
Twin Roller Axle Support is jig welded and spans the conveyor width on some models.
The one piece 'Constantly Vertical' all steel roller and axle support feature ensures maximum strength throughout these flexible roller conveyors.
Flexible Expanding Steel Roller Conveyors
 
Conveyor Width (mm)
Length Closed/Open (mm)
300
400
500
600
700
800
900
1000
1200
740/1500
£288
£362
£442
£391
£471
£589
£609
£631
£685
940/2000
£350
£464
£480
£497
£565
£708
£730
£753
£856
1360/3000
£485
£629
£653
£678
£801
£1007
£1043
£1080
£1201
1560/3500
£546
£730
£756
£785
£895
£1127
£1163
£1202
£1372
1980/4500
£681
£894
£930
£967
£1132
£1425
£1475
£1528
£1716
2180/5000
£743
£998
£1033
£1073
£1226
£1545
£1596
£1650
£1887
2600/6000
£878
£1163
£1207
£1254
£1463
£1843
£1908
£1932
£2135
2800/6500
£979
£1265
£1311
£1360
£1557
£1920
£1973
£2029
£2272
3220/7500
£1110
£1464
£1519
£1578
£1856
£2210
£2274
£2341
£2599
3420/8000
£1171
£1567
£1623
£1684
£1951
£2305
£2370
£2439
£2735
3840/9000
£1306
£1732
£1796
£1866
£2100
£2545
£2620
£2701
£3010
4040/9500
£1668
£1834
£1899
£1927
£2175
£2640
£2716
£2798
£3148
Height options, (One must be chosen) all have a zero price as it's included in the conveyor price.
Height A = 450mm to 700mm
Height B = 650mm to 1100mm
Height C = 900mm to 1500mm
End stop (If required)
Fixed roller type = £40.00 for conveyors up to 600mm wide. £50.00 for conveyors from 700mm to 1200mm wide
Fixed plate type = £40.00 for conveyors up to 600mm wide. £50.00 for conveyors from 700mm to 1200mm wide
Drop down plate type = £50.00 (Not available on conveyors wider than 600mm)
Connecting plates (Set) (If required) = £28.00
Prices are ex works UK and do not include delivery or VAT. Sold in accordance with ASL terms and conditions of sale, details available on request.
The following terms and conditions ("the Conditions") are the terms on which Automation Supplies Limited ("the Company") sells to other businesses and supersede all other terms and conditions used by the Company.
Orders, price and payment.
 1.1. No contract shall come into existence until the Company confirms the order for Goods in writing. The company does not accept liability for mistakes or errors made in preparing offers and invoices.
1.2. The price (exclusive of VAT) for the Goods ("the Price") shall be the quoted price of the Company and payment of the Price shall be made by the Buyer within 30 days of the date ("the Due Date") of the invoice for the Goods.
1.3. If the Price is not paid by the Due Date the Buyer will be liable to an additional payment of reasonable liquidated damages. Interest shall accrue both before and after any court judgment on the unpaid portion of the Price at the rate of eight per cent above the base rate from time to time of Bank of Scotland
1.4. Any cancellation of any order by the Buyer must be in writing, and agreed as cancelled also in writing by the Company. In case of any cancellation, the Buyer may be released from its obligations under the contract after payment of a sum for reasonable liquidated damages.
 Goods.
The description and quantity of the Goods to be sold ("the Goods") shall be as set out in the quotation provided by the Company to the Buyer ("the Quotation").
Delivery.
The Company shall deliver the Goods to the Buyer's address and on the date as both are shown on the Quotation. Time shall not be of the essence for delivery. The Buyer shall make all necessary arrangements to take delivery of the Goods on the day notified by the Company for delivery.
Acceptance.
The Company must be advised in writing by recorded delivery of any defects in the Goods as soon as they are discovered by the Buyer who shall be deemed to have accepted the Goods if they have not been rejected or shortages reported back to the company in writing via mail, e-mail or fax on or before the fifth day after delivery. The Buyer shall not be entitled to reject the goods or claim shortages in whole or in part thereafter. Deliveries signed for are deemed to have been checked for transit damage by the customer. Any subsequent damage found after the five day period is the responsibility of the customer.
Title and risk.
The Goods shall be at the risk of the Buyer following delivery and, notwithstanding delivery, title in the Goods shall not pass to the Buyer until the Buyer has made payment of all sums owing to the Company failing which the Company shall have the right to repossess or otherwise recover the Goods. Until title passes the Buyer shall hold the Goods as bailee for the Company and shall store or mark them so that they can at all times be identified as the Goods of the Company.
6. Limitation of liability.
6.1.     Save in respect of personal injury or death due to any negligence, the Company shall not be liable to the Buyer in respect of any loss suffered by the Buyer due to any defect in the Goods.
6.2.     Without prejudice to Condition 6.1 the Company shall not be liable to the Buyer or any third party for any loss of profit, consequential or other economic loss suffered by the Buyer arising in any way from this Agreement.
Force majeure.
The Company shall not be liable for any default due to any circumstance beyond the reasonable control of the Company including, but not limited to, Acts of God, war, civil unrest, riot, strike, and lock-out, acts of civil or military authorities, fire, flood, earthquake or shortage of supply.
General.
8.1. If any term or provision of these Conditions is held invalid, illegal or unenforceable for any reason by any Court of competent jurisdiction, such provision shall be severed and the remainder of the provisions hereof shall continue in full force and effect as if these Conditions had been agreed with the invalid, illegal or unenforceable provision eliminated.
8.2. The Company may without the consent of the Buyer sub-licence its rights or obligations or any part of these Conditions.
8.3. The headings in these Conditions are for ease of reference only and shall not affect the interpretation of any of the Conditions.
9. Contract.
Notwithstanding any other provision of this agreement, nothing herein shall confer or is intended to confer a benefit on any third party for the purpose of the Contract (Rights of Third Parties) Act 1999 or for any other purpose. By placing orders with Automation Supplies Ltd you agree to allow us to use your company name and logo in our websites purely as reference. You can request removal at any time.
10. Entire agreement.
Each of the parties agrees that save in respect of statements made fraudulently it shall have no remedy in respect of any untrue statement upon which it relied in entering this Agreement and that its only remedies shall be for breach of contract.
11. Warranty.
All assembled mechanical and electrical equipment supplied will be guaranteed against faulty parts and materials for the period of twelve months from the date of delivery.  This will be based on single shift working 5 days per week or the equivalent.  All faulty items will be replaced free of charge during this period on a return to factory basis.  The guarantee excludes accidental damage arising from misuse or any condition involving a use for which the goods were not designed. The guarantee will be void if any changes / modifications have been made              
12. Governing law and jurisdiction.
The laws of England and Wales shall govern this agreement and the parties hereby submit to the non-exclusive jurisdiction of the courts of England and Wales.